Today's guitar solo transcription is inspired by a guitar I just bought. I got a Music Man Albert Lee signature second hand on a great deal this week, and it's a killer guitar! Albert and his band Hogan's Heroes did a cover of Chuck Berry's Back in the U.S.A on their album Tear It Up, and put an awesome country twist on it.
When we play covers, guitar solos are an awesome place to put our own stamp on the music. The risk is that sometimes you might play something that doesn't quite fit with the groove or feel of the music. Albert Lee overcomes this by starting his solo with a direct reference to what Chuck Berry plays in his solo on the original record. This works brilliantly, as it pulls the listener in with a classic piece of Rock n' Roll vocabulary, and gives Albert a great jumping off point to play a super tasty solo that fits with the tune.
My favourite bit
There are some epic country-infused licks in here to spice up the pentatonic based solo. My favourite is the lick that runs across bars 6 & 7 of the transcription. Watch out for Bar 7, those triplets are quick and the position shifts can make it tough if you're not used to whizzing around the neck.
Enough talking!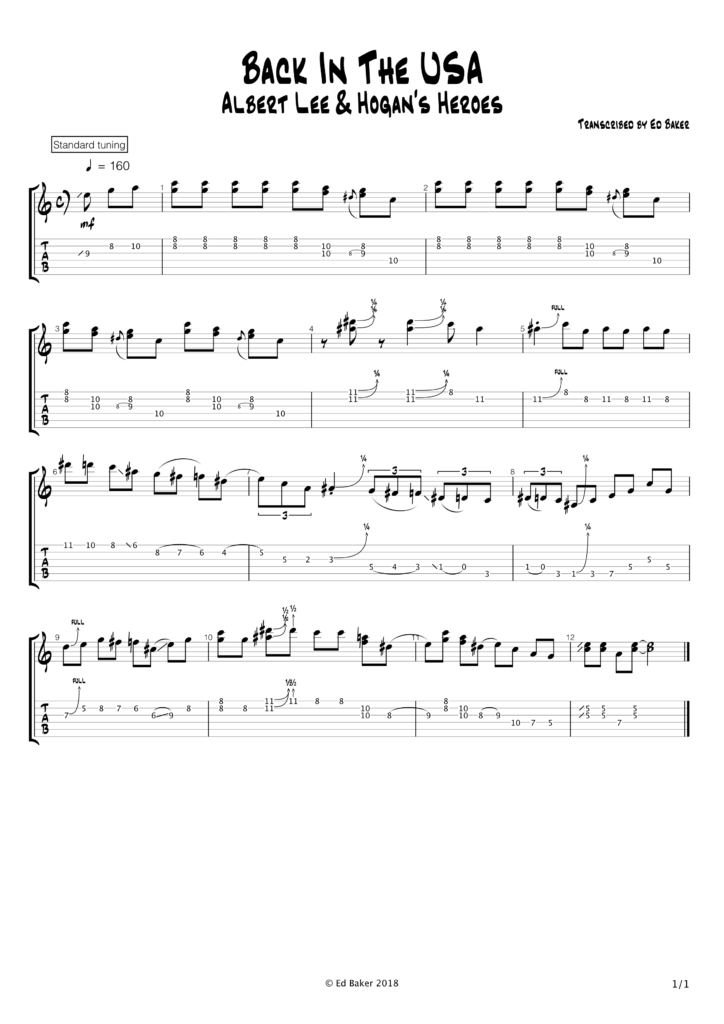 Thanks for coming!
I really hope that this transcription has helped you! Do check back on 22nd July to see my next post! Can't wait? Why not check out last week's post!
Do you have any suggestions of guitar solos I should transcribe? Or would you like to book a lesson to learn how to play your favourite shredder's guitar licks? Get in touch with me using the contact page and I'll do my best to help wherever I can.
Big love, and awesome licks.
Ed
Guitar Solo Transcription Challenge · Albert Lee & Hogan's Heroes · Back in the USA