Out to the left field?
Along with my New Year's Resolution being played out here, one of the things I want to improve is my sight reading. Since I left university, it's not something I've needed to use as much as I would like, and has fallen into disrepair. I also love a bit of Jazz Fusion every now and then, and that's where this transcription comes in! I seem to be taking liberties with the guitar solos a lot, and this week is no different. We're looking at Wayne Shorter's awesome Sax solo on Birdland. There's no tabs here either, it's all standard notation!
The Solo
When you're reading this, think about the position you're going to play it in. I prefer to play it around the 9th fret position. If you find it more comfortable in other positions then that's awesome!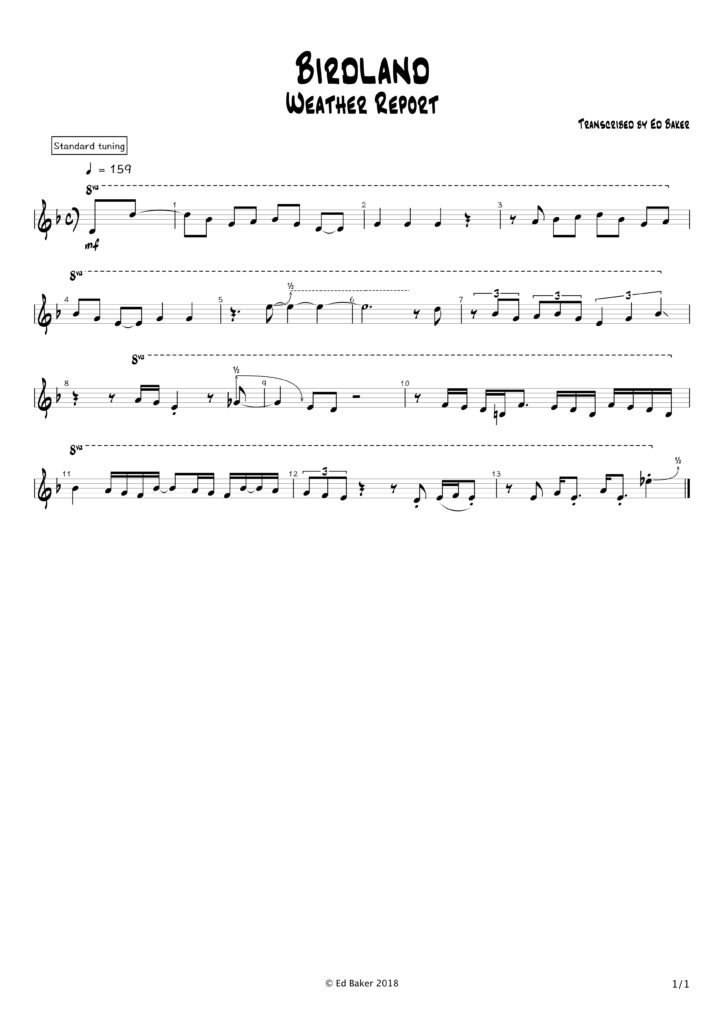 U Got Tabs, Bro?
No. Just kidding! If you would like a tab version of this in the position I like to play the solo in, then all you need to do is fill in the contact form here. I'll email you a PDF with the tab attached to it.
Thanks for coming!
I really hope that this transcription has helped you! Do let me know how you're overcoming the cross-picking issue. It would be really useful for me to see other solutions to the problem. Do check back on 18th March to see my next post! Can't wait? Why not check out last week's post!
Do you have any suggestions of guitar solos I should transcribe? Or would you like to book a lesson to learn how to play your favourite shredder's guitar licks? Get in touch with me using the contact page and I'll do my best to help wherever I can.
Big love, and awesome licks.
Ed
Guitar Solo Transcription Challenge · Weather Report · Birdland