The Legend Formerly Known As.
Those of you who know me well will know that I am a massive fan of Prince. The influence of the purple one can't really be understated, and I was lucky enough to see him play live twice on the Hit N Run Tour in 2014. One of those shows was valentines day at a little venue near King's Cross, and it was hands down the best gig I've ever been to. So, who better to transcribe a guitar solo of?! If you don't know what this is all about, click here!
If you want to hear the song, check it out on Spotify here:
Things to watch out for
So this solo is a tour de force of mixing emotive, vocal lead lines with blistering runs. This is idiosyncratic of Prince's playing. He'll build up the suspense with some bluesy bends, that bust out a super fast run right when you can't take any more.
There are a lot of repeating patterns here, and some phrases where the phrasing is similar but we move to different notes. This makes it seem easier to learn, but you need to listen out for the little things that makes each one unique. For example, Bar 5 is almost identical to Bar 4, but we lose the push on the first note. Little touches like this can help keep repeating patterns interesting.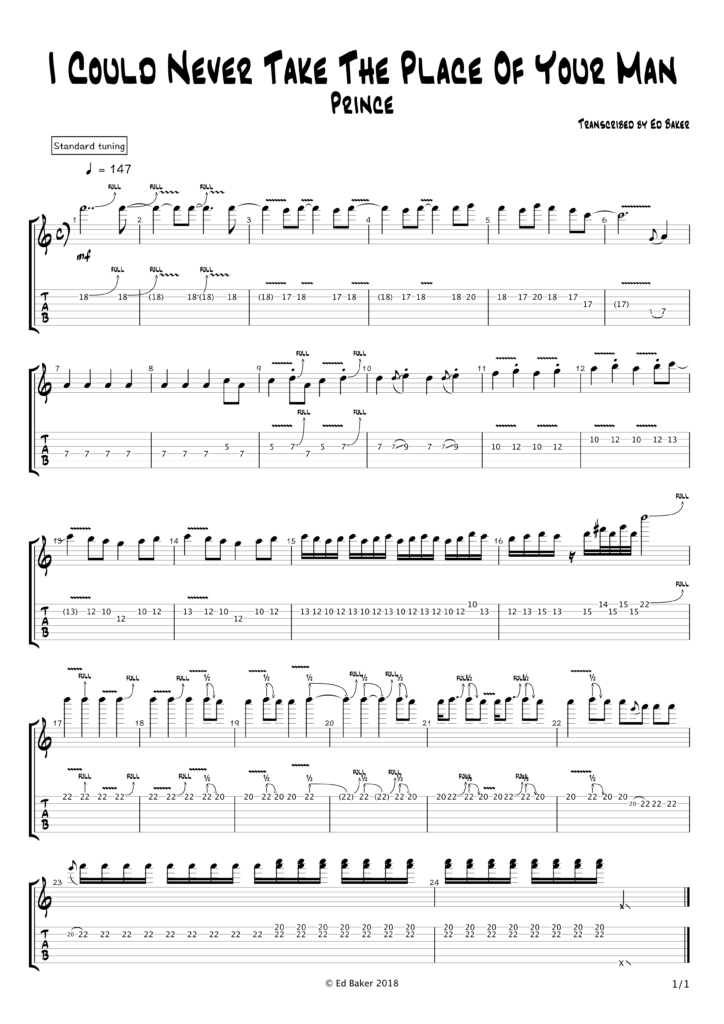 Thanks for coming!
I really hope that this transcription has helped you! Do let me know how you're overcoming the cross-picking issue. It would be really useful for me to see other solutions to the problem. Do check back on 18th March to see my next post! Can't wait? Why not check out last week's post!
Do you have any suggestions of guitar solos I should transcribe? Or would you like to book a lesson to learn how to play your favourite shredder's guitar licks? Get in touch with me using the contact page and I'll do my best to help wherever I can.
Big love, and awesome licks.
Ed
Guitar Solo Transcription Challenge · Prince · I Could Never Take the Place of Your Man