Guilty Pleasure
You know how there's those tunes that you'll only admit you like when you've had 5 or 6 drinks, at which point you'll be screaming along at the top of your lungs when it comes on in the bar? Yeah, I get that but don't need the beer to get me going.
Today's guitar solo transcription comes from one of those guilty pleasure songs. You know, the ones that everyone brushes off as a bit of a joke. But if you listen closely, you'll realise that there's some amazing musicianship in there! Brent Mason, one of the greatest guitar players of all time, played the solo on this record! It also has a pretty cool video…
There's some awesome country-rock chops in here, so be sure to check it out! Before we get started, click here to see why I'm doing this! Now then, on to the transcription: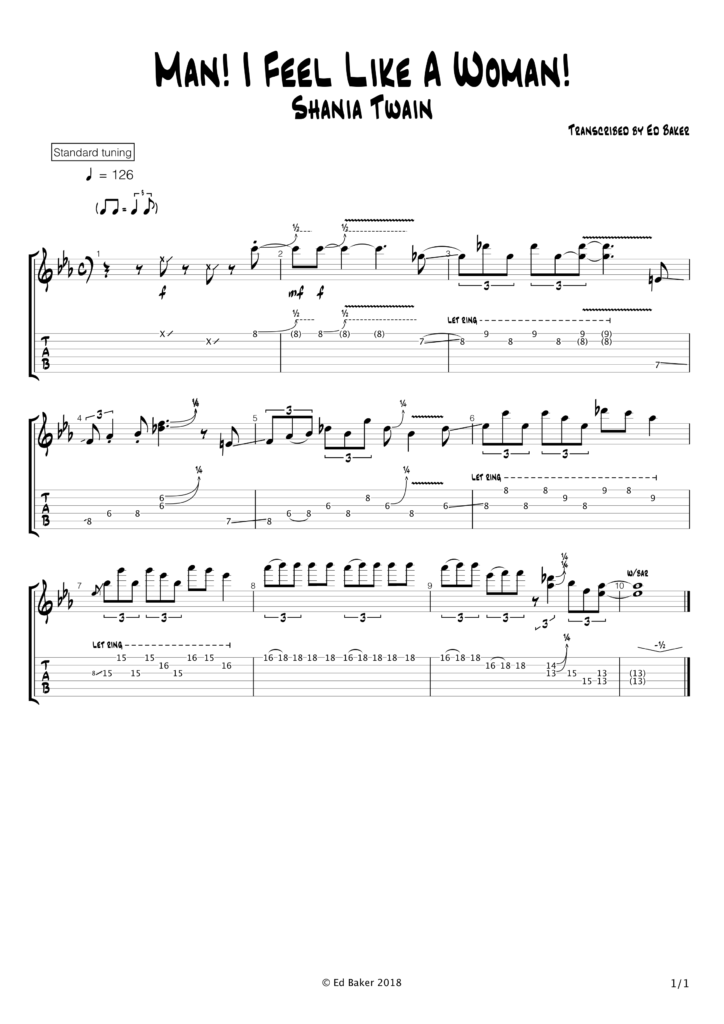 Thanks for coming!
I really hope that this transcription has helped you! Do check back on 6th May to see my next post! Can't wait? Why not check out last week's post!
Do you have any suggestions of guitar solos I should transcribe? Or would you like to book a lesson to learn how to play your favourite shredder's guitar licks? Get in touch with me using the contact page and I'll do my best to help wherever I can.
Big love, and awesome licks.
Ed
Guitar Solo Transcription Challenge · Shania Twain · Man! I Feel Like a Woman!